Last summer my small birthday gathering was punctuated by an unexpected gift from friends, Ronni and Wayne, and their kids Emma and Eric: a gift certificate for
Brooklyn Tattoo
, on Smith near Atlantic in downtown Brooklyn.
I was no stranger to the shop, in theory, having passed it many times and featured work by several artists (reviewable
here
).
Getting new work done is a cerebral process - I tend to think about it on different levels, and I pieced together a concept of a piece and then matched it up to
Adam Suerte
, based on what I knew of his style. The fact that I had a gift certificate made it easier, but it was this abbreviated exchange of messages that clinched it:
Me: Are you familiar with the "I'm Just a Bill" character from
Schoolhouse Rock
?
Adam: Oh yes, I am a product of
Schoolhouse Rock
and Saturday morning cartoons in general! ... Absolutely, i'd be honored to [do that].
That's all I needed to know that Adam was my guy so we met once to discuss layout and earlier today, the eponymous "Bill" was tattooed on my outer left ankle:
Photo by Adam Suerte
This is a raw, fresh shot from Adam's phone, and I must commend him for his excellent work, especially in light of my overactive nerves that sent my foot a-twitching throughout the process. I was a bit embarrassed because I've prided myself on sitting well, but when you don't have control over some reflexes, it can be stressful. However, Adam handled it well and did a great job. I'm extremely pleased.
Lest you not know what "Bill" is all about, he premiered in 1975 as part of the "
America Rock
" series is Schoolhouse Rock. Please, enjoy:
To celebrate my new tattoo, Adam has donated a t-shirt for Tattoosday readers: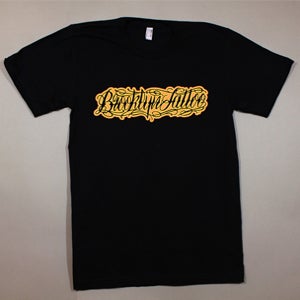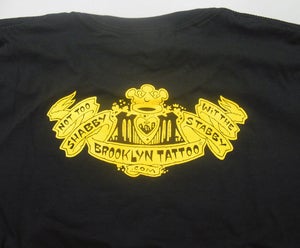 It's a men's large, and if you post a comment below, or on the Tattoosday Facebook Page, or e-mail your name and address to tattoosdaycontests@gmail.com, you can win this awesome shirt.
The shop is also having a Brooklyn Bridge 130th anniversary group show in a couple weeks, which includes the $30 Brooklyn bridge tattoo specials. More on that when we get closer to the event.
In the mean time, be sure to enter to win the t-shirt by leaving comments.
Thanks to Adam for doing such a great job with the design, and to my friends Ronni, Wayne, Emma and Eric for helping make it all happen!
This entry is ©2013 Tattoosday.
If you are seeing this on another website other than Tattoosday, without attribution, please note that it has been copied without the author's permission and is in violation of copyright laws. Please feel free to visit
http://tattoosday.blogspot.com
and read our original content. Please let me know if you saw this elsewhere so I contact the webmaster of the offending site and advise them of this violation in their Terms of Use Agreement.